UNITED PROPERTIES OF WEST MICHIGAN
Property Management in Grand Rapids, Kentwood, Wyoming, Caledonia, Rockford, Grandville, and more that maximizes your ROI
Exemplary Property Management in Grand Rapids, MI
The smartest team in Grand Rapids property management can be found at United Properties of West Michigan. We help owners maximize their rental income and grow their potential. We manage risk, protect your property, and keep your real estate business simple. Enjoy better peace of mind and increased earnings with your partners at United Properties.
Our experienced property managers know the unique local market, understand the needs of Grand Rapids tenants, and work hard to serve owners, renters, and investors. People who work with United Properties describe our staff as professional, friendly, and knowledgeable. We use our experience and our ongoing education to elevate your expectations for property management in Grand Rapids.
Grand Rapids Property Management Owners Can Trust
Working with United Properties of West Michigan means you get more value-added services than you can find with any other property management companies in Grand Rapids and the surrounding areas. Protect your cash flow and your investment property by utilizing our tools, resources, and expertise. We're here to help maximize the return on your investment property.
You'll get honest, high quality property management services that match your needs and exceed your expectations. Our team is prepared to provide you with excellent communication and service.
Grand Rapids Investments: Your One-Stop Rental Management Shop
Talk to us about your property management needs and we can see which our of three management options would be best for you.
Our multiple areas of expertise allows us to help you with the entire life cycle of your investment. Whether you need help buying an investment home, rehabbing a property you've already purchased, placing a tenant, or taking care of the day-to-day management responsibilities, we're here for you.

Read More »
With our local market knowledge and our fingers on the pulse of the rental and real estate industry, we help owners and investors earn more.
Working With Grand Rapids Property Investors
If you own rental property in Grand Rapids, Kentwood, Wyoming, Caledonia, Rockford, Grandville, or any of the surrounding areas, you may want full service property management without giving up all of your control. At United Properties, we work together.
Read More »
Some of our owners like to be involved in the management of their properties. Others like to leave it all to us. Whatever your comfort level happens to be, we'll provide a personalized management style that fits you and your property.
Maximizing ROI for Grand Rapids Investors and Owners
We're here to exceed your expectations. Our team has high standards and brings excellence to the local real estate market. We're here to provide resources, answers, and advice to all landlords and tenants – at any stage of the rental experience.
What can you expect?
Read More »
Lower vacancy rates with excellent marketing and fast tenant placement
Better tenant retention, thanks to our responsiveness and customer service
Remodels and rehabs that cost less but earn more
Clear communication and full transparency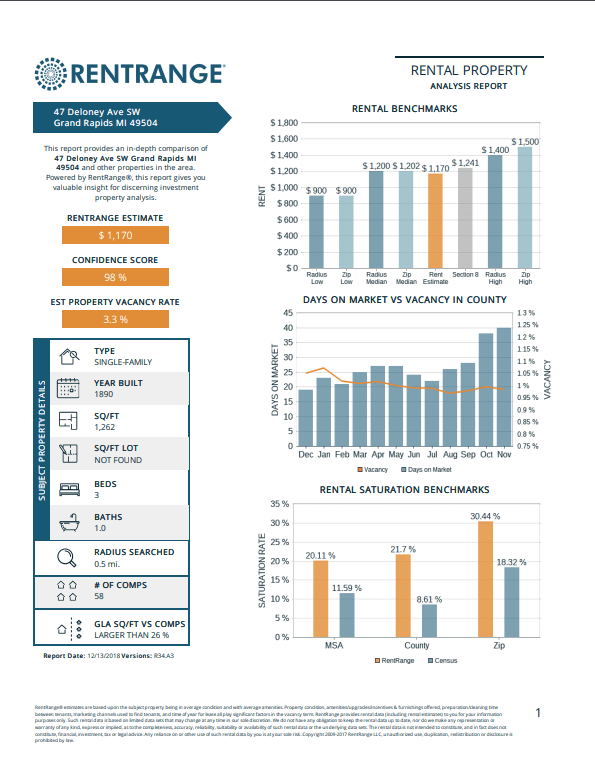 Most investors in Grand Rapids aren't sure about how much value their rental property holds. We know how to correctly price your property to ensure it rents quickly to a great tenant and earns you as much income as possible.
Talk to us about your property, and we'll send you an estimate of its rental value. We have a deep understanding of the rental market in Grand Rapids and the surrounding areas. We know what tenants are looking for, and how to maximize your potential rents based on unit quality and the market demand.
ACCESSIBLE & COMPREHENSIVE
"From my experience having used most of the major PMs across Grand Rapids, United is both the most accessible and comprehensive in terms of suite of services. In addition to basic leasing and property management, they have a unique organizational structure that provides experts on media, renovation strategy, leasing strategy, and entry/exit plans. These experts are not only accessible, but have been instrumental in guiding strategic decisions that inevitably arise. Tim, Jesse, Kurt, and others have been simply fantastic…I would highly recommend to either busy landlords or medium to large owners seeking to grow! 5 stars!"
Tenants Enjoy Working with United Properties of West Michigan!
Grand Rapids Property Management Tenants Can Trust
We make the rental experience easy and pleasant for our tenants in Grand Rapids and the surrounding areas. Almost everything is done online, at your convenience. You can pay rent, request maintenance, and access additional resources.
Apply for a home in Grand Rapids, Kentwood, Wyoming, Caledonia, Rockford, or Grandville
Tenants looking for a home in the Grand Rapids area have a lot to gain by working with us. View listings on our website, schedule showings with our agents, and fill out an application online. You'll move into a rent-ready home that is well-maintained, comfortable, and a place you will be happy to call home.
Grand Rapids
Kentwood
East Grand Rapids
Grandville
Wyoming
Comstock Park
Ada
Forest Hills
Walker
Marne
Rockford
Sparta
Lowell
Alto
Byron Center
Caledonia
Jenison
Jamestown
Hudsonville
And more!
LOOKING FOR RENTAL PROPERTIES?
Click the button below to start searching for your next home.
GOT QUESTIONS ABOUT GRAND RAPIDS PROPERTY MANAGEMENT?
Andrew Garcia was so approachable, very accommodating to my needs, and responded in a timely manner.
Read Reviews & Leave Reviews
Want to Learn More About Property Management?
If you'd like to learn more about our properties and what it's like to work with United Properties, get in touch. We'd be happy to talk more about our rental properties, our application requirements, and our leasing process.