UNITED PROPERTIES OF WEST MICHIGAN
WYOMING PROPERTY MANAGEMENT, INVESTING, AND HOME REMODELING
Increase Your Income, Decrease Your Costs
Exemplary Wyoming Property Management
Wyoming property management involves a lot more than rent collection and tenant placement, especially when you're working with professionals. To effectively rent out a home in Wyoming and throughout West Michigan, you need a management team with personal and professional investment experience. You need leadership.
Leasing and managing a home is complex, and it's only getting more challenging. There are new laws, new local trends, and lot of unexpected catastrophes like pandemics, maintenance emergencies, and tenants who suddenly stop paying. Unfortunately, it's easy to make an expensive mistake.
Our team has the Wyoming rental property expertise that you need to earn more and spend less on your entire real estate portfolio.
As licensed Michigan real estate brokers, we work with a wide range of investors. If you're a first-time landlord renting out your first property or an experienced investor looking to increase your wealth, we're your best resource for putting all the pieces in place for a successful investment experience.
Wyoming Property Management Trusted by Owners and Investors
Plenty of benefits are in place for the owners and investors who work with us. Not only do you get more knowledge and expertise, you also get extra value. We have a long history of helping owners maximize what they earn and what their homes are worth. We can protect your profits and your investment potential by utilizing our tools, talents, and expertise. We're here to help maximize the return on your investment property.
You can expect the best in residential management. We believe in transparency and accountability. We'll address your unique needs with a customized management plan that includes responsive communication and exceptional customer service.
When you need the best in Wyoming rental property management, give us a call.
All Your Management and Investment Needs are Met
We offer our owners a unique selection of three property management programs, and after a discussion about your property, your investment goals, and your personal needs, we'll help you select one that fits your budget and your investments. Whether you want us to focus on leasing or take care of every detail, there's a platform that's perfect for you.

Read More »
Our many areas of expertise means you can count on our team to lead you through the entire life cycle of your investment. We'll help you identify an investment opportunity when you're growing your portfolio. We can rehab and renovate the units you already own to increase their rental value and attract better tenants. We'll take care of rent collection, respond to maintenance needs, and keep you informed with detailed, easily understood statements and reports.
We believe we're your best property management solution in Wyoming and throughout Western Michigan. With our local market knowledge and our fingers on the pulse of the rental and real estate industry, we help you earn more from your property.
We serve owners and investors with property in zip codes 49418, 49503, 49507, 49509, 49519, 49528, and 49548.
Invest in Wyoming Real Estate
We work with new investors and experienced real estate professionals. We love what we do, especially when it comes to showing people why it's a good idea to buy rental property in Wyoming and throughout West Michigan. There are so many terrific reasons to live, work, play, and invest in Wyoming real estate.

Read More »
When investors from out of state want to know why this market makes sense, we point to the growing population and the stable economy. We talk about the culture, recreation, and job growth that can be found here, as well as the high quality of life.
Our Wyoming and West Michigan property management services will ensure steady cash flow and great returns on your investment without any stress.
Increasing ROI with Best Practices and Sound Policies
We offer a full range of investment services and bring our time-tested best practices to the table when you're buying, selling, and leasing an investment property. We can do everything from help identify and acquire the right investment property to finding a great tenant, establishing a rent collection policy, and managing the security deposit process.

Read More »
If you already have a rental home, our leasing expertise will result in lower vacancies and better tenant placement. Our dedicated Wyoming property managers will help your home perform better.
Working with us, you can expect:
Lower vacancy rates with excellent marketing and fast tenant placement

Better tenant retention, thanks to our responsiveness and customer service

Remodels and rehabs that cost less but earn more

Clear communication and full transparency
If you're looking for a property management company that's focused on service and results, contact our team.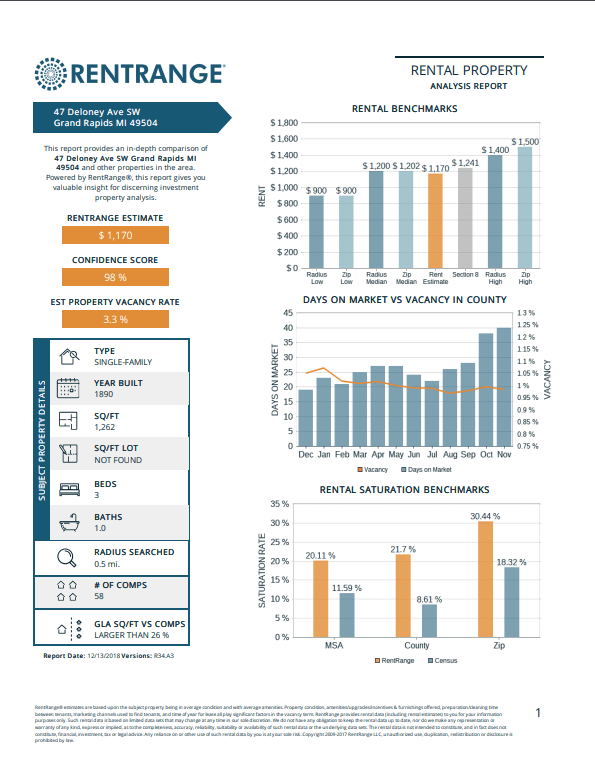 Wyoming Property Management: Free Rental Analysis
Most Wyoming investors aren't sure about the rental value of their investment property. Our experience in the local market allows us to correctly price your property to ensure it rents quickly to a great tenant and earns you as much income as possible.
Talk to us about your property, and we'll send you an estimate of its rental value. We have a deep understanding of what tenants are looking for and what they're willing to pay for a Wyoming rental home. We can maximize your potential rents based on unit quality and the market demand. That makes us the rental home management company investors rely on.
ACCESSIBLE & COMPREHENSIVE
"From my experience having used most of the major PMs across Grand Rapids, United is both the most accessible and comprehensive in terms of suite of services. In addition to basic leasing and property management, they have a unique organizational structure that provides experts on media, renovation strategy, leasing strategy, and entry/exit plans. These experts are not only accessible, but have been instrumental in guiding strategic decisions that inevitably arise. Tim, Jesse, Kurt, and others have been simply fantastic…I would highly recommend to either busy landlords or medium to large owners seeking to grow! 5 stars!"
WYOMING PROPERTY MANAGEMENT FOR RENTERS
Find Out Why Tenants Love Working with Us!
Are You A Current Tenant?
Your management team at United properties of West Michigan will deliver a seamless and simple rental experience. If you've been stressed out by landlords and management companies in the past – don't worry. Here, you'll only have a helpful team of professionals who want to answer questions and respond to any of your needs. We welcome you to do everything safely and securely online, thanks to our innovative technology. You can pay rent, request maintenance, and access additional resources. We provide Wyoming rental property management you can rely on.
Are You a Future Tenant?
Applying for a home in Wyoming does not have to be complicated. If you're looking for you're the perfect rental home, we invite you to work with our team of leasing experts at United Properties of West Michigan. We make it easy. View available listings on our website, schedule showings with our agents, and fill out an application online. You'll move into a rent-ready home that is well-maintained, comfortable, and a place you will be happy to call home.
East Grand Rapids
Grandville
Comstock Park
Ada
Forest Hills
Marne

Muskegon
LOOKING FOR RENTAL PROPERTIES?
Click the button below to start searching for your next home.
GOT QUESTIONS ABOUT GRAND RAPIDS PROPERTY MANAGEMENT?
Andrew Garcia was so approachable, very accommodating to my needs, and responded in a timely manner.
Read Reviews & Leave Reviews
Want to Learn More About Property Management?
If you'd like to learn more about our properties and what it's like to work with United Properties, get in touch. We'd be happy to talk more about our rental properties, our application requirements, and our leasing process.